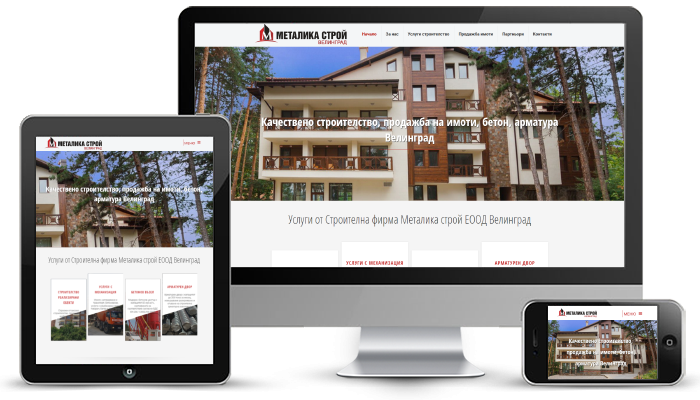 Dynamic website - Metalica Stroy Ltd. Velingrad,
Metalica Stroy Ltd. Velingrad offers services in the field of construction as well as services with mechanization.
Metalica Stroy Ltd. Velingrad has a built-up concrete unit, an arama yard, sells apartments, houses and commercial premises directly from the builder.
The company turned to us to build their company web site. The site had to present all the activities and services the company offered to its clients.The site was built for only 14 working days from the date of submission of all necessary materials for its construction.
With its new and attractive design, the company's Web site has a completely new look on the Internet. Thanks to the introduced SEO package we managed to rank a company
Metalica Stroy Ltd. Velingrad in all important key words and word combinations. The new web site of the company has a dynamic design, adaptable to all mobile devices, with a light and fast administrative panel, very easy to fill with texts and photo material. The site browses and uploads and watches videos from the company's activities.
The site has over 15 years of experience that we have accumulated from Business.bg in building corporate websites, online stores and corporate sites.
Web site features
Unique responsive design
Custom CMS - Content management system
Used program languages
Html5
CSS3
php
javascript